Page 19 - SPIE BATIGNOLLES RARSE 2020 EN
P. 19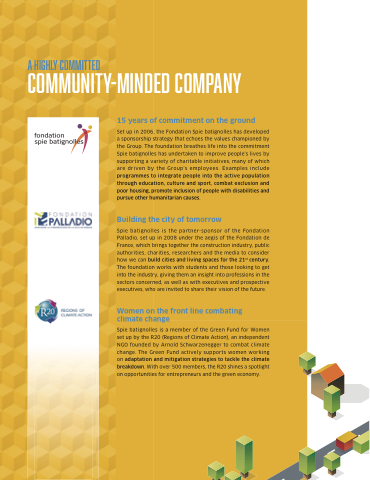 A HIGHLY COMMITTED
COMMUNITY-MINDED COMPANY
15 years of commitment on the ground
Set up in 2006, the Fondation Spie batignolles has developed a sponsorship strategy that echoes the values championed by the Group. The foundation breathes life into the commitment Spie batignolles has undertaken to improve people's lives by supporting a variety of charitable initiatives, many of which are driven by the Group's employees. Examples include programmes to integrate people into the active population through education, culture and sport, combat exclusion and poor housing, promote inclusion of people with disabilities and pursue other humanitarian causes.
Building the city of tomorrow
Spie batignolles is the partner-sponsor of the Fondation Palladio, set up in 2008 under the aegis of the Fondation de France, which brings together the construction industry, public authorities, charities, researchers and the media to consider how we can build cities and living spaces for the 21st century. The foundation works with students and those looking to get into the industry, giving them an insight into professions in the sectors concerned, as well as with executives and prospective executives, who are invited to share their vision of the future.
Women on the front line combating climate change
Spie batignolles is a member of the Green Fund for Women set up by the R20 (Regions of Climate Action), an independent NGO founded by Arnold Schwarzenegger to combat climate change. The Green Fund actively supports women working on adaptation and mitigation strategies to tackle the climate breakdown. With over 500 members, the R20 shines a spotlight on opportunities for entrepreneurs and the green economy.